HORSE RIDING THROUGH JURA KRAKOWSKO-CZĘSTOCHOWSKA
---
Mountain Riding Tourism
As early as in the description of the first mountain excursion organised by the Polish Tourism Society from Stanisławów in 1876 we read: "Having mounted strong Carpathian ponies, we turned from the road along the Żabina brook and further, at the altitude of 1200 feet we reached the mountain pasture fot the first time." Accordingly, the roots of mountain horse tourism reach back the baginnigs of our moutais' tourist exploration and they were connected with a local horse breed of Carpathian ponies, playing dominating role on mountain trails till nowadays.
In 1990, when mountain horse tourism was officially included into the organisational structures of the Polish Tourist Country Explorers Society (PTTK), there roots recalled. At the beginning operating within the Mountain Tourism Commission of PTTK Main Board, a regulation was prepared for the Horse Riding Mountain Tourism Badge of PTTK and in the stable of Carpathian ponies in Gładyszów the first training for mountain horse riding tourism was held. In March 1996 the Commission of Horse Riding Tourism PTTK Main Board was appointed, which co-ordinates the whole activities of mountain horse riding tourism through its subordinated commisions: Mountain Commission and Lowland Commision.
Year by year, more and more horse riding tourists become active. New mountain riding trials are being created and approved by PTTK. The most important of them are: the Beskidy Crossing Trail of 600km and Jurassic Train of 250km.
More and more horse riding centres are awarded PTTK afiliation certificate. Leading Staff of almost 200 persons offers help, advice and professional tutoring to tourists on trails and in centres.
Subcordinated Commisions
of Mountain Horse Riding Tourism, PTTK Main Board
30-010 Cracow, 6 Jagiellońska St., phone: (0-12) 421-21-13
Warsaw, phone: (0-22) 826-71-59
---
Jura Krakowsko-Częstochowska
Jura Krakowsko-Częstochowska located betwen Kraków and Silesia, occupies the area of 2615km2. Its unique character of Jurassic landscape is attributed to rocky limestone monadnocks, raising as single objects or in groups, revealing varied shapes. The largest of them are crowned by ruins of medieval castles, referred to as Eagle Nests.
The flora, consisting of c.a. 1500 species of vascular plants, places Jura Krakowsko-Częstochowska, next to the Tatras and the Pieniny Mountains, among the most valuable regions of Poland in terms of flora richness. The most characteristic element are limestone hillocks and gorges with truly mosaic system of plant communities.
The animal world is equally rich and varied. Apart from many common species, occuring here in great numbers, one can encounter such rare ones as Aquila eagle, European honey-buzzard, dipper and kingfisher.
Bats populate numerous caves. Also an encounter with a beaver that is being reintroducted here in recent years, can leave unforgettable impressions. A natural sight is also Błędowska Desert, occupying c.a. 30km2.
---
PTTK Cross Jurassic Horse Riding Trail
Jura Krakowsko-Częstochowska is extremaly attractive a terrain for tourist horse trekking, both as short excursions one day trips and expeditions lasting many days. Accommodation for tourists can be found in mountain horse riding tourism centres, numerous in this area. The fact of their being affiliated at PTTK is the guaranty of their services high quality level.
In order to facilitate the encounter with Jura's beauty for horseback tourists, the Mountain Comission of PTTK delineated and marked Cross Jurasic Horse Riding Trail from Nielepice near Kraków to Częstochowa.
In leads through the most attractive regions in terms of nature and tourist sights, taking into consideration - what is extremaly significant - the requriements of nature protection. And one has to adamit that there is much to be admired.
The trail starts in Carpathian Ponies Stable in Nielepice near Kraków. The first section of the trail (8h) leads through picturesque terrain through Rudawa, Radwanowice, beautiful valley of Racławka and Paczółtowice to Zawada. Here the riders have two accommodation opitions where they can find lodging together with horses. They can also have a meal and feed their animal companions.
Day two. (11.5h) From Zawada the trail goes through Zederman (caution: horses have to be led through a busy road E-40), Zadół Kosmołowski to the ruins of a 14th century castle in Rabsztyn. Further on, we ride through Pomorzańskie Skałki and after crossing the road Klucze - Hutki we reach Błędowska Desert. In the "middle" of the desert we find a sign-post leading left to OGTJ "Kontur in Małobądz (1.5h), and towards the right to Karlin (6h,45m.). In Małobądz the tourists shall find comfortable accommodation for themselves and their horses.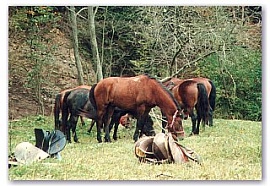 Day three (8h 15m.) of the riding excursion leads through Błędowska Desert - a picturesque river crossing through a ford on Biała Pszemsza and further north to Chechło (Desert Valley), and to Hillock of Chełm, Hutki, Kanki, Krępa, Lachowizna, reaching Podzamcze. Here we find the most beautyful castle of "Eagle Nests" - Ogrodzieniec. The castle was estabilshed in 14th century, but its present shape can be attributed to 16th century raconstruction. For history lovers, these ruins have on more significance. Thanks to Aleksander Janowski they became a symbol for the Polish people separated by partitions of Poland, visible on the logo of the Polish Tourism Society estabilished in 1906. 1.5h of raiding awaits us and we are in Karlin, where we find lodging at OGTJ "Mustang".
On day four we expect 6h 45m. riding to Mirów. The trail leads through Żerkowice and Zdów to Bobolice. Here our attention is attracted by the ruins of one of 2 castles, as the legend says, connected with a 2km tunnel.
The castle in Bobolice, founded in the 14th ceuntry and destroyed, similarly to other castles, at the war called the Swedish Deluge. Two kilometres away we encounter the ruins of a twin castle, founded also in the 14th century in Mirów. A horse riding center, OGTJ "Orle Gniazdo" (a beautiful name meaning "Eagle Nest") ist being constructed at the bottom of this castle. We hope that the first tourists find accommodation there soon.
Day five on the trail (5h 45m.) is the route from Mirów through Łutowiec to Złoty Potok. On the way we pass by two beautiful wildlife reserves: "Ostrężnik" and "Parkowe".
When we reach OGTJ "Stajnia Wiking", it is worth time to visit the Raczyński palace (1863), Krasiński Manor (1st half of 19th century) and a beautiful palace park of 25 hectares.
The last day six of our excursion along PTTK Cross Jurassic Horse Riding Trail (10h) is the way from Złoty Potok through Zrębice and further near "Puchacz" mountain - where the connecting trail begins (30 m.) to OGTJ "Stajnia Biały Borek" to the ruins of Olsztyn castle.
Here, apart from the ruins of the most northern post of Jurassic strongholds, if we are lucky, we shall be able to admire magnificent fireworks show. From Olsztyn the trail leads the riders, tired but full of unforgettable mamories to OGTJ - Ognisko TKKF "Pegaz".

The route of PTTK Cross Jurassic Horse Riding Trail, presented here briefly, is to show horse riding tourists a huge potential existing in Jura Krakowsko-Częstochowska for taking advantage of this qualified tourism form. Horse riding tourism appeared here in relatively recent times and has been developing rapidly. Delineating this trail, and others in the future, as well as local trail at OGTJ centres, aims at providing tourists with a possibility of safe admiration of Jura Krakowsko-Częstochowska beauty on horseback, so that the nature remained untoched as we first saw it.

Apart from horse excursions, the whole shape of horse tourism in influenced by such events as the Hubertus hunt ("fox hunting") on St. Hubertus Day, cavalcades or "The Crock of Gold Horseback Hunting" organised by OGTJ "kontur" on Midsummer Eve.

So Jura Krakowsko-Częstochowska invites all horse riding tourists to trails and numerous riding events, in persons of its hosts and inhabitants.